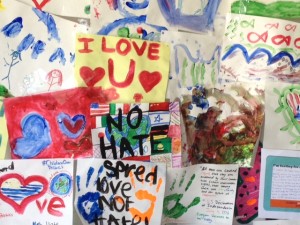 We were so glad to play a small part in the "Politics Over Children" week of fasting led by LA-area kids. The effort was designed to raise attention and demand support for the thousands of children who fled various parts of Central America which has generated national attention. The LA-area kids decided to fast for 5 days and ask for donations of food and clothing while creating a platform for getting their message out.
BBOI played a small role by working with a variety of artists and musicians to provide cultural entertainment for everyday of the fast in some form. From hip-hop activist Jasiri X to LA-based Quetzal, Mike de la Rocha and more, there was a moment to lift the spirits of the fasters and those supporting them, like SEIU California, CHIRLA, and other organizations. To cap off the week, we were also successful in reaching celebrity chef Roy Choi, who served the fasters himself with their "first meal" when the fast was over at his restaurant Chego. 
To learn more about the campaign, go to www.FastingforChildren.org.
This tweet to our LA native son Roy Choi (yes, he has quite a Twitter handle) led to the celebration at week's end (below).