10 Days, 50 hours, 30 Moments
MANIFEST:JUSTICE Programming
Big Bowl of Ideas served as a production partner of the large scale pop-up art exhibit and community convening, Manifest:Justice, and was responsible for directing and coordinating the day-to-day programming May 1-10,2015. Nearly 15,000 people attended over that time.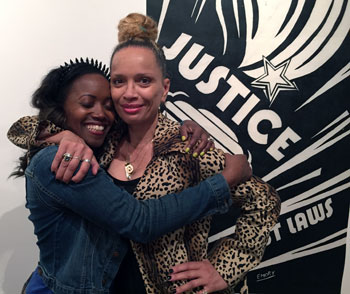 Working with an amazing array of cultural organizers and producers in their own right, BBOI built out a schedule of over 30 events including music performances, panel discussions, workshops, live community art projects, film screenings, and musical and theatrical performances. See full listing of the dynamic programming here.
Sponsored by Amnesty International and The California Endowment, BBOI worked collaboratively with Task Force and Revolve Impact, to recruit and secure additional community partners, speakers and performers, manage concepts and logistics for event production, and coordinate on-site preparation and execution for the series of events addressing issues of civil rights, human rights, social justice, criminal justice reform, health care, immigration reform, poverty and resilience.
Prop. 47 Record Change Fair
Attendees were able to get assistance on changing their criminal record as provided by the passage of Proposition 47 in CA in 2014 produced and coordinated by Revolve Impact.
Forum on Civil Rights and Criminal Justice
Chaired by U.S. Rep. Tony Cardenas, this forum addressed innovation, diversion and prevention-oriented efforts around the nation, featuring an array of testimony from elected officials, notable organization leaders and young people of color.
Live Screenprinting with Hit+Run
Gallery attendees brought t-shirts, tote bags and hoodies, selected from a set of designs and got their items screenprinted.
Community Peace Circle
Led by LMU Restorative Justice Project's Schoene Mahmood, the Community Peace Circle provided safe, inclusive and effective tools to help us develop relationships within a healthy environment, mold knowledgeable, responsible, and civically engaged citizens, and rethink justice through a new lens.
Printmaking Workshop with Self Help Graphics & Art
Renowned East LA-based cultural and community center, Self Help Graphics & Art led participants in one of its trademark printmaking workshops

"Rodney King" Performance & Discussion
History, poetry and tragedy collided when Obie Award-winning actor Roger Guenveur Smith tackled the thorny odyssey of Rodney King in his one-may play which was followed by a conversation with the audience.
Over 75 teens joined community sponsors in a social media and arts education workshop where they worked in groups to make their own art inspired by the exhibit
Tatyana Fazlalizadeh, the artist that started this groundbreaking street art project to raise awareness about street harassment of women, convened a gathering with women to hear their stories and capture them via illustration.
"Art for Social Justice in Real Time: Opportunities for Artists"
Art for Amnesty, Community Coalition and Courage Campaign hosted a discussion on opportunities for artists to address issues of social justice through their work.
SPEAK JUSTICE: A Night of Beats, Rhymes + Poems
A night of All-Star spoken word performances about various aspects of human rights including those who have appeared on HBO and with tens of millions of YouTube views among them.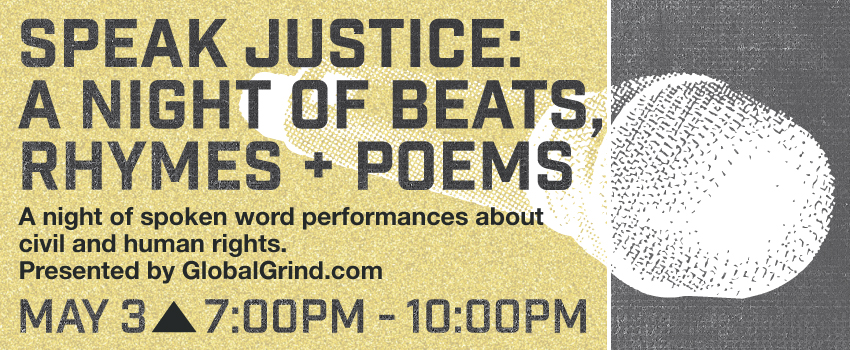 The Role of Community-Based Intervention in Reducing Violence
A panel discussion that addressed the headlines that show us the tragic end results of death and disrupted communities at the hands of violence that sought to surface the causes and seek solutions from a diverse panel of community leaders.
Cinco de Mayo (Justice Now Remix)
Produced in conjunction with Grand Performances, Presente.org and SEIU USWW, Cinco de Mayo (Justice Now Remix) was a reclamation of the holiday in the spirit of resistance and taking a stand featuring live performances by the band Mexico 68 and DJ Canyon Cody
A Conversation with Sybrina Fulton
Rosario Dawson moderated a discussion on resilience with Sybrina Fulton, mother of Trayvon Martin, and The California Endowment's Dr. Robert Ross followed by a DJ set by KCRW's Aaron Byrd.
"POWER: From the Mouths of the Occupied" Performance
The #BlackLivesMatters Culture Crew performed this multi-media production that brought stories of Black folks directly impacted by state violence to the stage.
"Art at Work Social Justice Movements"
An exploration of how visual art, theater, dance, film and other art forms impact social change in communities locally and globally by the organization LA Commons featuring visual artist Favianna Rodriguez and filmmaker Angela Boatwright ("Los Punks")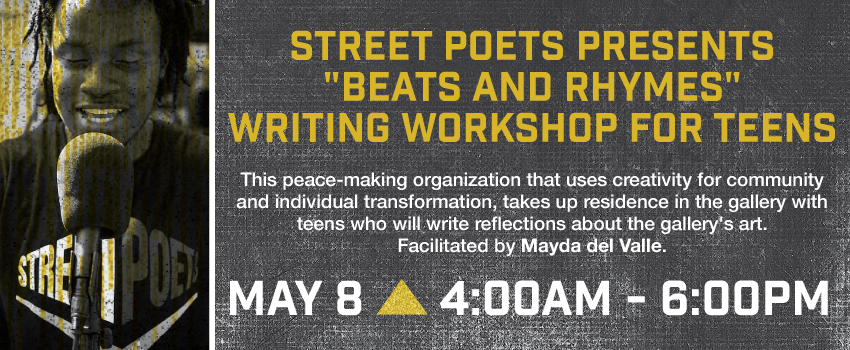 A screening about the shooting and killing of Jordan Davis
Street Poets Presents "Beats and Rhymes" Writing Workshop for Teens
Led by Mayda del Valle, the peacemaking organization, Street Poets took up residence in the gallery with teens who wrote reflections about the gallery's art.
MTV Rebel Music's Nusrat Durrani, Tom Morello, Inez Jasper, and Bird Runningwater joined Manifest:Justice to showcase the efforts of young musicians, artists and activists who are fighting injustice and demanding change followed by performances by Tom Morello and Inez Jasper.
Health & Wellness Fair
The Manifest:Justice Health & Wellness Fair featured a multitude of FREE health services, including health screenings, vital sign readings, basic lab tests, consultations with specialists, and specialized exams.
Workshop on Health & Art presented by Broccoli City
Using art to inspire best practices in health for the mind, body, and soul, the founder of the Broccoli City Festival, Brandon McEachern, led a collaborative workshop in Health Inspired Art.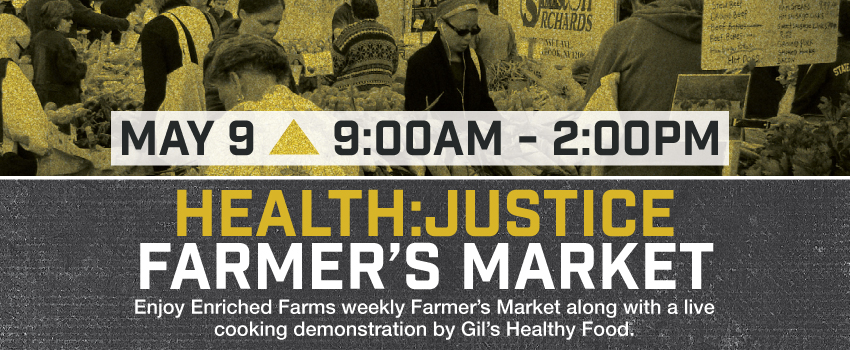 Piece by Piece Workshop by the Mosaic Mafia
Using tiles as a tool for communication and creativity, participants experienced self-realizations through this mosaic workshop hosted by Mosaic Mafia
Comic Drawing Workshop with Concrete Park
Participants received insights and drawing techniques for making their own graphic novel from the co-founder of Concrete Park, Tony Puryear.
Coloring The Future Panel Discussion with Graphic Novelists and Comics Artists of Color
Erika Alexander joined other graphic novelists and comics artists of color to discuss how they are creating new worlds in color and impacting how we think about race
FILM JUSTICE An Excerpts Screening and Discussion Curated by Victoria Mahoney
FILM JUSTICE featured excerpts from "Middle of Nowhere" by Ava DuVernay and "Circumstance" by Karin Chien and a discussion with the audience.
theLIFT for JUSTICE
KCRW's Jeremy Sole hosts A LIFT FOR JUSTICE with special guest performers for a night of music and dance.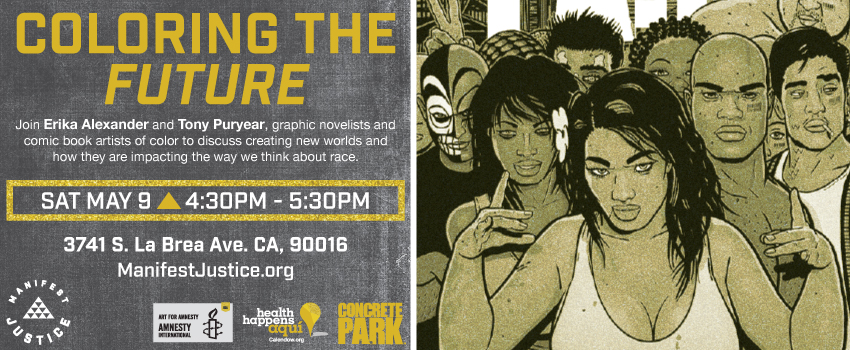 "The Art of Family" Photo Sessions
Hosted by Representative Karen Bass and featuring Lisa Ling, foster care and families of all types were invited to have their portraits taken by creative photographers and documentarians, Kinno Villand, Joseph Viles and Kelsey McNeal.
Communal Handweaving Workshop
Participants joined artist Sohani Cagliero throughout the day and contribute to the creation of a yarn-based display.
Media
With the great work and help of Sunshine Sachs, Manifest:Justice received tremendous media coverage, doing all the more for the issues, topics and constituencies is was aimed at surfacing. There were over 100,000,000 media impressions. Below is some select media coverage.
Huffington Post, 04/22/2015, Wyatt Closs—10 Beautifully Distracting Programs to Look for At the Manifest:Justice Pop­Up Art Space
Capital and Main, 04/27/2015, Bill Raden—'Manifest: Justice' Art Show Explores Inequality and Reform
Los Angeles Times, 04/30/2015, Carolina Miranda—150 artists and a Ferguson, Mo., police car at political pop­up 'Manifest Justice'
LA Sentinel, 05/07/2015, Brian W. Carter—Manifest Justice Opens Thoughts, Provokes Mind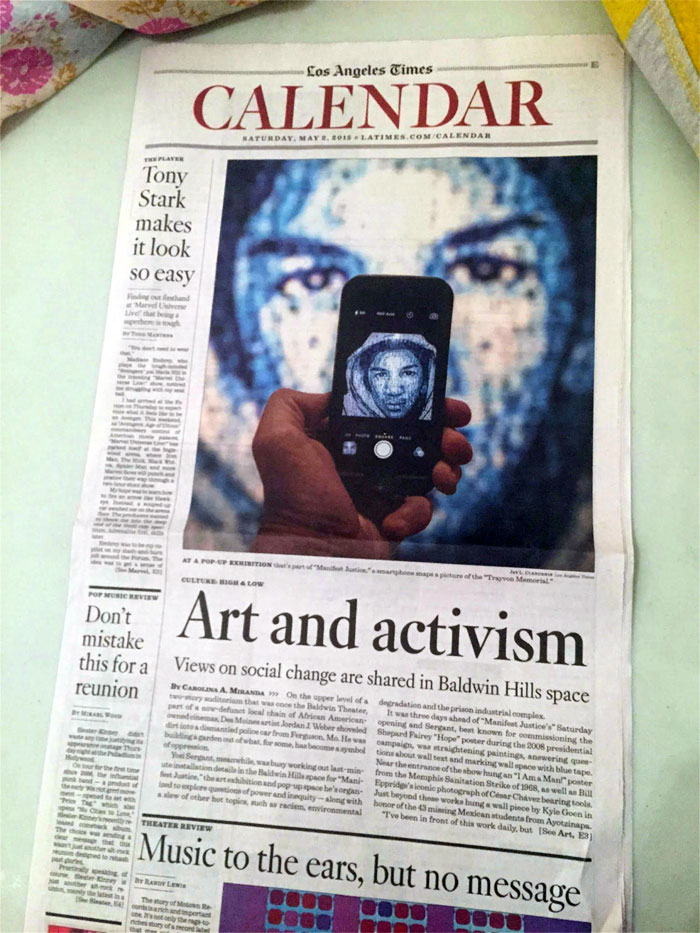 KNBC Los Angeles, 05/10/2015, Patrick Healy—Pop­Up Exhibit Provokes Conversation on Manifest Justice
AFROPUNK, 05/12/2015, Alexander Aplerku—#MANIFESTJUSTICE Art Exhibit in Los Angeles